Kepompong Rama-rama/ Butterfly Pupa VALUE SET
Kami menyediakan kepompong rama-rama yang berharga untuk diadopsi dan dijadikan haiwan angkat. Masing-masing dibiakkan dengan penuh teliti dari saat menetas daripada telur kecil mereka. Setiap dari mereka menceritakan kisah petani dan pekerja yang berdedikasi dalam membiakkan ulat beluncas ini melalui metamorfosis. Hanya inilah satu-satunya cara untuk memastikan rama-rama akan terus berterbangan …
Detik yang menakjubkan menanti anda semua! Saksikan sendiri rahsia di dalam kepompong muncul menjadi rama-rama indah yang berterbangan!
Apakah kepompong benar ini?
Kepompong ini merupakan peringkat ketiga pada kitaran hidup rama-rama (telur, ulat beluncas, kepompong, rama-rama). Ia dibiak oleh Taman Rama-rama & Reptilia Melaka sebagai salah satu usaha untuk program konservasi dan tidak mendatangkan kemudaratan terhadap ekosistem. Semua hasil jualan ini akan disalurkan ke penyelidikan dan pemuliharaan rama-rama di Malaysia. Tahniah! Anda merupakan penyumbang dalam konservasi rama-rama.
Apa anda akan dapat
RM50 setiap set
1 unit kepompong rama-rama
1 unit balang kaca
PERCUMA Button badge
PERCUMA penghantaran Semenanjung Malaysia
2 keping tiket melawat Taman Rama-rama & Reptilia
Rasai sendiri pengalaman menyaksikan proses rama-rama yang indah keluar daripada kepompong.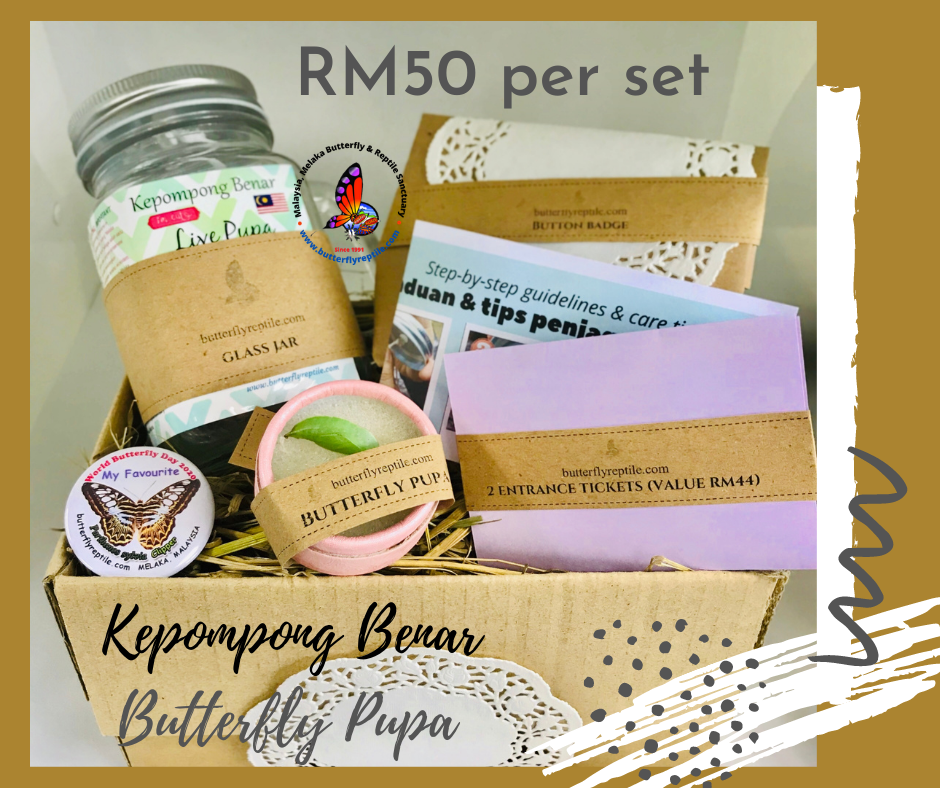 We made available our precious butterfly chrysalis for adoption. Each of them was carefully raised from the moment they hatched from their tiny eggs. Behind every chrysalis lies the story of dedicated farmers and staff raising butterfly larvae through the metamorphosis. This is the only way we can ensure butterflies continue to fly …
Magical moment awaits you! Witness for yourself the secret within the chrysalis burst into fluttering butterfly!
What is this?

This butterfly pupa is the third stage of the butterfly life cycle (eggs, caterpillar, pupa, butterfly). It is bred within the laboratory of Melaka Butterfly & Reptile Sanctuary as our effort towards Butterfly Conservation and have no adverse impact on the species population in the wild. All the sales from Pupa Jar will be directed to butterfly research and conservation in Malaysia. Congratulations! You have contributed to Butterfly Conservation.

What you get
RM50 per set (FREE delivery WM)
1 unit butterfly pupa
1 unit glass jar
FREE button badge
FREE delivery within West Malaysia
FREE 2pcs entrance tickets to visit Melaka Butterfly & Reptile Sanctuary
Experience this pupa turning into a lovely butterfly.